Best Multi-Centre Holidays with Rome
If you have not been to Italy before, then one city that it is surely essential to include in your multi-centre holiday to Italy is the Eternal City of Rome.
Rome has a diversity of attractions that you can enjoy, including ancient sights around the Colosseum Archaeological Park, spiritual architecture and art at Vatican City, and classic attractions around the Trevi Fountain and Spanish Steps. However, if you're not familiar with Italy then you may be unsure which cities combine the best with a holiday in Rome. If that sounds like you then read on for our guide to the best multi-centre Italy holidays featuring Rome.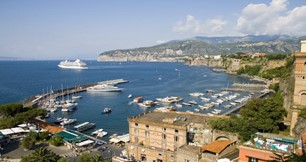 Our Rome and Sorrento twin-centre holiday is one of our most popular multi-centres and is particularly popular as a honeymoon as it combines the perfect balance of cultural sights and relaxation on the coast.
Rome is of course most famous as the seat of the Roman Empire and is full of historic attractions, including the Colosseum and Roman Forum, but also lesser known sights, such as the catacombs. You can also visit several charming villages just outside of Rome to get a deeper understanding of Roman culture, such as the Castelli Romani and Tivoli.
Sorrento, meanwhile, is a serene fishing village on Italy's south coast, not far from Naples. It is famous as the main producer of authentic Italian limoncello, which is made from the lemons that grow in the orchards around Sorrento. It has a laid-back atmosphere and, being on the coast, offers epic sea views out over the Bay of Naples, making it the ideal destination for relaxing finale to your twin-centre Italy holiday. However, if you want to mix lounging by the pool with a little culture, there is also plenty of nearby attractions, including Pompeii and Herculaneum, which can be visited on a day trip, as well as the island of Capri, which is full of pretty sights, including natural rock formations and sea caves.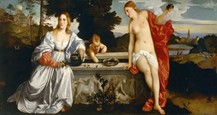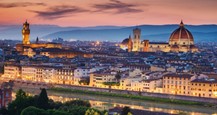 If you're eager to experience diversity and see the many faces of Italian culture on your Italy holiday, then we highly recommend this classic Italy multi-centre holiday, which combines Rome, Florence and Venice. Thanks to Italy's excellent rail network, it's not hard to travel between the cities, provided you book your train tickets in advance.
In this multi-centre, Rome gives you the ancient history that Italy is known for and we recommend pre-arranging a tour of the ancient city centre so that you can make the most of your time and learn the fascinating history of the Roman Empire. Note that although touts tend to approach tourists outside the Colosseum offering tours, they are often unlicensed, which means that you can be overcharged for the service you receive. As such, we suggest pre-booking a tour with a reputable agent to ensure you get the best deal.
Florence is known as the Jewel of the Renaissance and is regarded as one of the most beautiful cities in the world. As well as sublime architecture, the Duomo being a notable example, the city offers a wealth of artistic masterpieces that is almost overwhelming. The two most famous art galleries in Florence are the Accademia, where you'll find Michelangelo's epic statue of David, and the Uffizi, which is home to the extensive art collection of the Medici Family. It is also easy to visit Pisa from Florence to see the famous Leaning Tower – pre-organised da trips are available but you can also catch the train if you would prefer to sightsee on your own.
As a finale to your Italy multi-centre holiday, Venice brings all the magic that you could wish for! The Floating City, as it is known, has a distinctly romantic atmosphere, with rich architecture and charming canals, which serve as streets throughout the city, making it a great choice for a couples' holiday. We highly recommend taking a gondola ride through the city, though we suggest opting for a private tour rather than a shared tour, as the shared option can get quite hectic during the peak season. It is also well worth booking a tour of St Mark's Basilica and Doge's Palace, as the entry queues are extremely lengthy if you don't book in advance!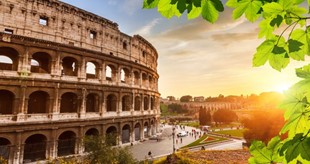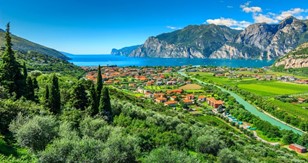 If you want a relaxing multi-centre holiday to Italy but are not tempted by our Rome and Sorrento twin-centre holiday, then we may be able to tempt you with this Rome and Lake Garda twin-centre holiday, which we particularly like as a family vacation in Italy as both resorts offer a wealth of family-friendly attractions.
In Rome, you could treat the family to a cooking class in a traditional Roman house or perhaps spend the day visiting the ancient lost city of Pompeii on a day trip from the Eternal City. There is also a zoological garden in Rome, where you may like to take the family to see wildlife, including big cats and reptiles.
In contrast to Rome's city vibrancy, Lake Garda brings you simply stunning natural scenery in a tranquil setting, where you can admire the great lake set against a mountain backdrop on a relaxing walk or fun family bike ride on the lake-side paths. As a family day out, we highly recommend visiting Gardaland, which is the region's theme park. It boasts adrenaline-fuelled rollercoasters, children's rides, bars and restaurants, and also has a Sea Life Center.
If you would like to visit Italy on a multi-centre holiday but don't want the stress of arranging all the details, why not speak to one of our friendly advisers about our tailor-made Italy holidays. We can take care of all your vacation needs, including flights (and online check-in, if available), airport transfers, inter-city train transfers, accommodation and pre-arranged activities. For your personalised quote and e-brochure, please call us on 01223 637331 or send us an online enquiry.
Search Keywords
Enter keywords below to perform a search within the events to find more relevant posts