Best winter sun holidays in Italy
As winter draws in and the weather gets colder, many look for a sunny escape to shake off the winter blues. While Italy of course becomes colder in the winter months, it still enjoys fine weather and also boasts some of Europe's best ski resorts. This all makes winter sun holidays in Italy the perfect getaway.
If you're thinking about a winter holiday in Italy but are unsure which are the best Italy resorts, here is our guide to the best winter sun holidays in Italy.
For winter sun
As you might expect, the further south you go in Italy, the warmer the weather. Here are some of our favourite winter sun holidays in Italy if you prefer a milder climate.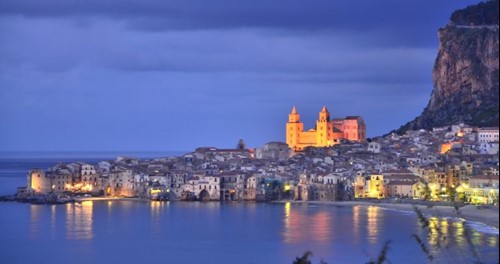 Sicily
The best destination for winter sun holidays in Italy is the island of Sicily. This laid-back island boasts several all-year holiday resorts. Our favourite is Cefalu, which is a sun-soaked beach resort between Palermo and Messina. As well as charming restaurants on Corso Ruggero (the main street) and a relaxed coastal vibe, Cefalu boasts stunning views of the Tyrrhenian Sea, which is ideal on a winter sun holiday in Italy.
Sorrento
If you want to enjoy plenty of activities on your winter sun holiday in Italy we recommend heading to the coastal town of Sorrento in South Italy. It is not far from Naples, and from Sorrento you can enjoy a wealth of day trips. Popular excursions include a boat trip to the idyllic island of Capri, which is known for its magical sea caves, and a walking tour of Pompeii – the region's lost city. Being in the south, Sorrento boasts milder weather than the northern cities and always has an enchanting "summer vacation" feel to it.
Travel tip: Note that some of the southern summer holiday resorts, such as the Amalfi Coast, close over the winter months, meaning that some hotels and restaurants are not open. To avoid disappointment, we recommend booking your winter sun holidays in Italy through an expert tour operator, who will be able to advise you of the best resorts for a winter vacation in Italy.
For skiing
If you're chasing snow instead of sunshine, Italy's ski resorts certainly won't disappoint. Here are a few of our favourites for winter sun holidays in Italy.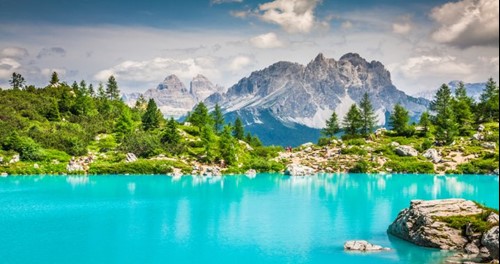 The Dolomites
The Dolomites in Italy attract visitors year-round. In the summer, it is a wonderful destination for a walking holiday, while in the winter it boasts some of the best skiing opportunities in Italy. There are plenty of ski resorts to choose from, but our favourite is Cortina d'Ampezzo. This high-end resort features designer boutiques and has a vibrant social scene that makes the winter feel a little bit warmer.
Travel tip: If you purchase a Dolomiti Superski lift pass you will have access to 12 ski areas and 450 ski lifts, including access to Sella Ronda, which offers some of the best views and scenic winter landscapes in North Italy.
Livigno
If you're looking for a family ski vacation in Italy, we recommend Livigno. It has a special tax status, meaning that there is no VAT on drinks, petrol and consumer goods, making it more affordable for families. Here, the Mottolino and Carosello ski parks offer a range of abilities, while Amerikan and Del Sole are the best ski parks to head for with beginners or young children.
Travel tip: Livigno is remote and so is not very easy to get to – the best way to get there is to fly to Innsbruck and then take transport from there.
Madesimo
If you're on a budget, then we recommend you check out Madesimo near Lake Como. While it is not suitable for absolute beginners, those looking to improve their skills will enjoy the Canalone run and there's plenty of variety. The ski area isn't expensive (expect to pay around €180 for a 6-day lift pass) and there are plenty of affordable pizzerias, restaurants and bars.
Travel tip: Madesimo is within driving distance of Milan and Bergamo, and so can get busy at weekends with the locals.
The classics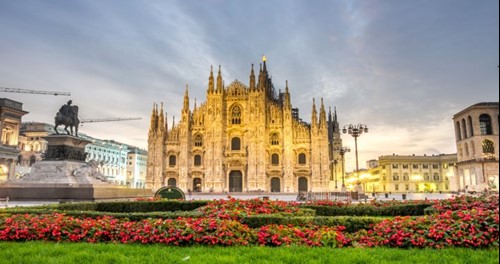 On a final note, we highly suggest not passing up the central and northern cities for winter sun holidays in Italy. While the weather is colder, the atmosphere is as warm as ever with that famous Italian hospitality evident in every bar, hotel and restaurant.
Florence, Rome, Venice and Milan all thrive in the winter months, with no slow-down in the attractions that you can visit. Plus, Italy's iconic landmarks, such as Rome's Colosseum and Milan's Duomo, look simply stunning in the crisp winter sky. These cities also boast a wealth of indoor attractions if the weather is a little too crisp – in Florence, head to the art galleries, while Doge's Palace in Venice will warm you with its decadent exhibits.
Travel tip: Many of the top attractions in the classic Italian cities are much quieter in the winter months and some even offer discounts on entry – take full advantage with one of our winter sun holidays in Italy. Contact an expert member of our team today on 01223 637331 or click here to send an online enquiry.
Search Keywords
Enter keywords below to perform a search within the events to find more relevant posts