Our favourite hotels in Venice
For us, Venice is one of the most magical cities in the world and, as a floating city built on wooden platforms in the Venetian Lagoon, it is unique and should surely be on everyone's holiday bucket list.
Venice's main island is made up of a complex arrangement of streets and canals, and it can be difficult to choose the perfect hotel for your Venice holiday if you are unfamiliar with the city and the location of the top attractions. With this in mind, we would like to share with you our favourite Venice hotels, including luxury 5-star hotels, as well as budget 3 stars that are perfect for a weekend getaway.
5 Stars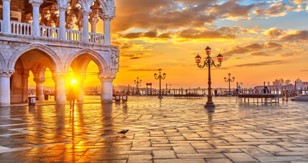 Hotel Metropole is situated in a prime location overlooking the Grand Canal and giving a view of San Giorgio Island that is spectacular! The hotel is also located just a few steps from the Biennale d'Arte and Piazza San Marco, making it the ideal choice if you want to enjoy a luxury sightseeing vacation in Venice.
Where… Riva degli Schiavoni 4149
Why we love it… Besides the enviable location, the interior of Hotel Metropole oozes eclectic charm, with a welcoming atmosphere created with candles and captivating incenses. The hotel's historic roots are reflected in its collection of antique furniture, marble statues, Venetian fans and wood carvings, which are displayed across the different floors of the hotel, making this residence a joy to wander around – it's almost a museum in its own right!
Facilities… Air Con  -  Bar  -  Garden Terrace  -  Mini Bar  -  Restaurant  -  Satellite TV
The Molino Stucky Hotel in Venice is a beautiful building dating back to the 19th century. It has been thoughtfully restored and enjoys a unique position on Giudecca (one of Venice's islands) overlooking the Giudecca Canal.
Where… Giudecca 810
Why we love it… Hilton Molino Stucky is located on one of Venice's smaller islands, making this hotel a great choice if you want to enjoy the magic of the Floating City from somewhere a little less busy than the main island. We also love the hotel's contemporary feel, which contrasts perfectly with its historic surroundings, and the hotel also boasts a range of luxury facilities, including a divine restaurant, an outdoor pool, a tennis court and a sauna.
Facilities… Air Con  -  Bar  -  Gym  -  Kettle  -  Mini Bar  -  Restaurant  -  Safe Deposit  -  Satellite TV  -  Spa  -  Swimming Pool  -  WiFi
4 Stars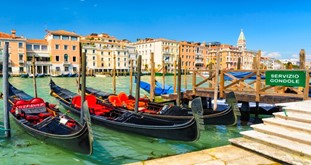 The Duodo Palace Hotel is a short distance from Teatro La Fenice and Piazza San Marco, making it ideal for sightseeing. With elegant rooms featuring views of Venice's rooftops and its picturesque canals, the hotel is ideally located for those wanting to enjoy the magical cityscape.
Where… San Marco 1887, 1888 - Calle Minelli
Why we love it… Palazzo Duodo enjoys one of the best locations in the city – sitting within the San Marco area on the main island and just a 5-minute walk from St Mark's Basilica and Doge's Palace. It is not on the Grand Canal and instead sits on Calle Minelli off of Rio de l'Barcaroli, giving a sense of peace even during peak season. As well as the excellent location, we love the hotel's refined Venetian style, which allows guests to appreciate the magical atmosphere of Venice.
Facilities… Air Con  -  Bar  -  Mini Bar  -  Safe Deposit  -  Satellite TV  -  WiFi
Situated in the heart of Cannaregio, Hotel Continental is beautifully positioned in one of the most authentic parts of Venice, the Jewish Ghetto.
Where… Lista di Spagna, Cannaregio, 166
Why we love it… We love the history of Hotel Continental as the residence that now houses the hotel was once the home of a noble Venetian family. If you choose to stay here, you can enjoy little authentic features, such as the Siena marble floors, and there is also an atmospheric cocktail bar and a rather fine restaurant with views of the Grand Canal – the perfect setting for a romantic meal.
Facilities… Air Con  -  Kettle  -  Mini Bar  -  Restaurant  -  Safe Deposit  -  Satellite TV
3 Stars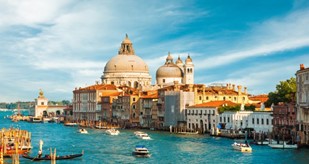 The Apostoli Palace was completely restored in 2002 to a high standard and stands discreetly in one of the most quiet and picturesque regions of Venice, and just a short distance from the main sights and attractions.
Where… Cannaregio, Calle del Padiglion 4702
Why we love it… Being in Cannaregio, staying at the Apostoli Palace gives you the chance to see an authentic face of Venice, where there are boutique shops to browse and little bars where the locals go. However, although it is away from the crowds, nearly all the top attractions, including the Rialto Bridge and St Mark's Square, can be reached on foot with ease.
Facilities… Air Con  -  Room Service  -  Safe Deposit  -  Satellite TV  -  WiFi
Hotel Cà Formenta is located in the Arsenale area of Venice, only a few steps from the Biennale Pavillion of International Modern Art and about a 15-minute walk from St Mark's Square. It overlooks the lagoon and is in an area full of life, with many shops, bars and restaurants.
Where… Cannaregio, Calle del Padiglion 4702
Why we love it… The happy vibrancy of Hotel Cà Formenta is one of our favourite things about this hotel as it resides within a typical Venetian two-storey building painted bright orange with white frames at the windows and green shutters. The hotel is small but the quality and standard of this property falls in the superior category – the fact that there are only 14 rooms results in a higher quality of service and a quieter environment, and the rooms are kept in exceptional condition.
Facilities… Air Con  -  Bar  -  Mini Bar  -  Safe Deposit  -  Satellite TV
If you're thinking about a multi-centre holiday to Italy featuring Venice, why not save yourself the stress and hassle of trying to arrange all the details yourself? Chat to one of our expert travel advisers about our tailor-made Italy holidays – we can take care of all your travel needs and will take the time to listen to what you want from your Italy multi-centre and will then recommend the perfect holiday itinerary and hotels for you. Call us locally on 01223 637331 to find out more or click here to send an online enquiry.
Search Keywords
Enter keywords below to perform a search within the events to find more relevant posts