The best tiramisu in Rome!
Tiramisu is a classic Italian dessert that is considered to have originated from Treviso around the early 1960s. It is enjoyed all over Europe but it is surely best in its home land! If you are visiting Rome in the coming months and want to sample decadent and creamy tiramisu, here are our top picks.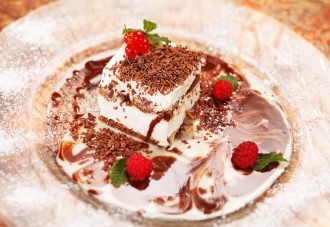 The top 10 of the most delicious tiramisu can be found, in our opinion, near Campo de' Fiori. We particularly love the take on tiramisu at San Lorenzo, which uses rich mascarpone cheese and "cacao salt" to create a beautifully flavoured dessert. The offering at Roscioli is also a joy for your taste buds and the focus the chef puts on sourcing excellent raw materials for the tiramisu really shows.
We also love Caffè Propaganda, whose tiramisu is actually created by their resident French chef - it has the perfect balance of sponge biscuits, cream cheese, espresso and chocolate and can't fail to bring a smile to your face.
For a traditional tiramisu made using the Savoyard method, head to Benito, or for something a little different, try Pompi on Piazza Re di Roma, who offer strawberry, hazelnut, Nutella and pistachio flavoured tiramisu, along with the traditional coffee version.
However, if you find yourself in the Trastevere region of Rome, the best place to head for us is BRO, who bring a great balance of flavours with their tiramisu, while maintaining that iconic taste of espresso.
There are many other cafes and restaurants in Rome that offer glorious tiramisu and this article just gives you a sample of some of our favourites. If you have felt inspired to try tiramisu in Italy, why not chat to one of our friendly advisers about a personalised multi-centre holiday in Italy. As a part of your custom-made package, we can arrange additional activities, such as a food and wine tour in Rome so that you can sample the most exquisite Italian food. To find out more, call us on (UK) 01223 637 331 or (US) 1-347-594-5500 or click here to send an online enquiry.
Search Keywords
Enter keywords below to perform a search within the events to find more relevant posts